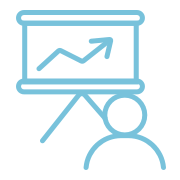 Wealth Pitch
Build customized content and presentations rapidly and flexibly with Wealth Pitch – ensuring you deliver successful pitches to clients or prospects every time with minimal effort
First impressions count when presenting investment solutions to your clients
so it is important to be pitch perfect every time. But creating professional and personalized content is an intensive process – reducing the amount of time you can dedicate to client engagement. 
This is where Wealth Pitch comes into play: Designed specifically with relationship managers and investment advisors in mind, this platform gives you the freedom to select the most appropriate content for every client presentation, drawing on the wide range of customizable and compliant material produced by your colleagues in the Wealth Pitch Content Management System. 
In addition to specifying client preferences, you can apply criteria such as suitability, risk appetite or cross-border rules to identify the best content for your clients – saving valuable time and ensuring you present the most appropriate investment solutions. 
Wealth Pitch incorporates all the elements needed for a successful pitch – enabling you to showcase your products to clients in a way that will attract the best investments and new leads.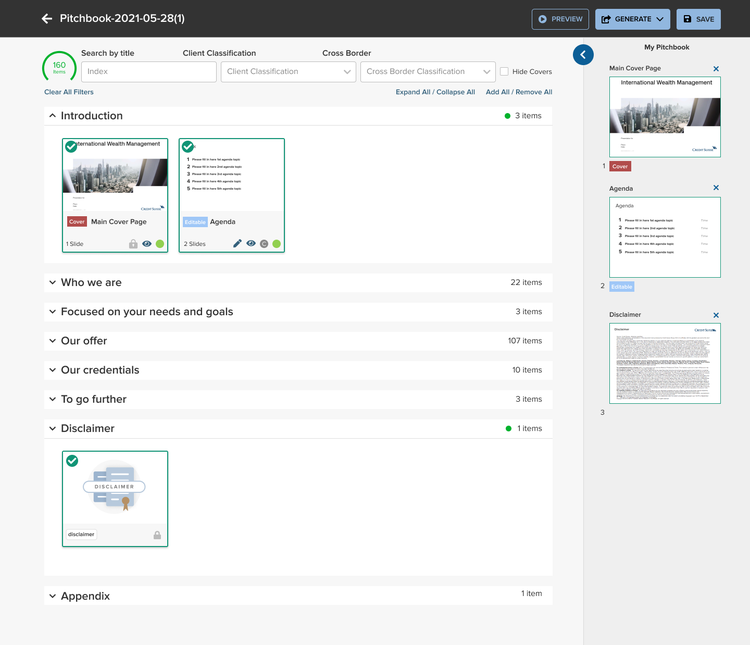 Platform dedicated to pitches
Powerful solution to support and enhance the process of creating professional presentations – combining all the elements needed for successful pitching in the investment world

Flexible features
High level of flexibility with multiple file formats supported – allowing a range of high-quality materials to be uploaded, managed, reviewed and published on the platform or customized by relationship managers and advisors for client-ready pitches

Selection of content and auto update
Draw on a wide range of material to select the most relevant content – with the added benefit of the auto update feature

Efficient content management
Range of convenient options to carefully compare and control content – including materials in different languages

Optimized user experience
Easy-to-navigate interface with a wide range of helpful tools, actions and tips for pitch builders and content managers alike – ensuring an optimal user experience
Have we caught your attention?
We look forward to showing you the power of our services. Talk to our team and discover how Move Digital can help you deliver personalized and context-driven wealth management solutions.